On New Year's Eve...The Town Becomes A Stage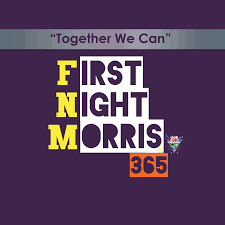 First Night® Morris County, a non-profit 501(c)(3) organization, seeks to foster the public's appreciation of visual and performing arts through an innovative, diverse, and high-quality New Year's Eve program which offers the community a shared cultural experience that is accessible and affordable to all with Year Round Community Development Thru FNM365.
What is First Night?
First Night® Morris County began in 1992 and is the LARGEST First Night® in New Jersey, attracting nearly 10,000 participants each year. An alcohol-free and substance-free celebration of arts and culture, First Night® Morris County attracts families, seniors, singles and anyone looking for an exciting way to ring in the New Year!
Who Organizes First Night?
First Night® Morris County is run by a volunteer Board of Trustees and 6 Committees. Board and/or Committee Members come from a variety of backgrounds and work year-round to support the mission of First Night® Morris County. Our Advisory Board is comprised of a diverse group of dedicated community members who share insights and feedback regarding First Night Morris County and oversee our year-round initiative, FNM365. These individuals meet 2 times a year to help shape the First Night experience.
What Is FNM365®?
FNM365 is a Year-Round Community Development Program, dedicated to bringing the community together, not only for New Year's Eve but all 365 days of the year. The FNM365® motto is "Together We Can." FNM365® in conjunction with First Night Morris County Partners, Supporters, Volunteers, Patrons, and Community Members provides the following programs: Advisory Board, Artist Entrepreneurship, Arts & Innovation Summit, Button Donation, Community Reinvestment Program (CRP), Reading To A Better Future, and STEM Leadership Internship Program.
Annual Event: First Night Morris County
First Night® Morris County features over 70 performances at 20 venues (18 In-Person, 1 Live Stream, and 1 On-Demand) ranging from dance and comedy to music and children's performers. The event has showcased rock and roll, classical, blues, jazz, opera, choral music, film festival and so much more. Attendees return year after year to see their favorite performers and new artists for the first time. Artistic programming is made possible by the First Night Morris County Executive Board, Film Festival Committee, and the support of Morris Arts. The live program concludes with the new Midnight Countdown to Welcome in the New Year, and the virtual program concludes on January 1st at 4:00 P.M., with On-Demand access to over 50 Films ending.
For Performer Profiles, Schedule, Event Info, Overnight Packages, & To Purchase, Visit FirstNightMorris.org.
Where is First Night?
For the 30th Year on New Year's Eve, we will bring together thousands with an unmatched array of performances which be available streaming, on-demand, and offer limited live performances*. First Night Morris offers 15 venues located in Downtown Morristown with Complimentary Parking, Shuttles, and Additional On-Demand Access.
Manal Abeskaron
Peapack-Gladstone Bank
Peter Brillon
KL Southeby's International Realty
Jackie Cantania
Portofino's Restaurant
Kevin Coughlin
MorristownGreen.com
Officer Cousins
Morristown Police Department
Walter Deutsch
Chari, First Night Morris County
Geoffrey Dietzel
Brunswick Financial Group, LLC
Michael Dundon
Mayo Performing Arts Center (MPAC)
Timothy P. Dougherty
Mayor, Town of Morristown
Pam Fischer
Former Chair, First Night Morris County
Michael Giacobello
First Bank
Amando Hernandez
Hyatt Regency Morristown
Meghan Hunscher
President & CEO, Morris County Chamber of Commerce & MCEDC
Kevin Kurdziel
Middlesex County Workforce Development Board and Office
Jane Kurek
The Provident Bank Foundation (retired)
Chad Leinaweaver
Morristown Library
Brandi Marks
Full House Events
Ryan Marowitz
MGR Computers
Gina Marie Mattei
Revelation Creative
Marc Mustachio
Kraus Marketing
Jessica D. Offer, CPA
Withum
Craig Schlosser
President, Morris County Economic Development Alliance
Michael Schmidt
Advisory Board Co-Chair & Former Chair, First Night Morris County
Dr. Lynn Siebert
Morris Arts
Mark Spaldo
Boy Scouts of America (retired)
P.J. Thrunkauf
The UPS Store of Morristown & Morristown Rotary Club
Thomas Woodard
Atlantic Health
Jennifer Wehring
Morristown Partnership