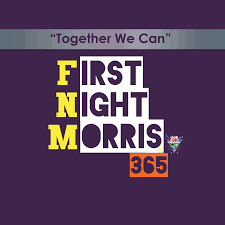 FNM365® is a Year-Round Community Development Program, dedicated to bringing the community together, not only for New Year's Eve but all 365 days of the year. FNM365® in conjunction with First Night Morris County Partners, Supporters, Volunteers, Patrons, and Community Members will provide the following programs throughout the coming year.
Advisory Board
The Advisory Board is an essential part of First Night Morris County. Advisory Board Members are Community and Business Leaders, former Board Members and/or Board Chairs, Current Board Members, Volunteers, Supporters, Vendors, Venues, Partners and Key Committee Members. The Advisory Board Meets 2 times a year, oversees the FNM365 Initiative and the development of new programs or initiatives.
Artist Entrepreneurship
Artists are Entrepreneurs. To be a Successful Artist and Entrepreneur, Artists need (at the very least) basic business skills and a willingness to approach selling art as any Entrepreneur would. For Artists who are serious about building a sustainable career, we have partnered with the New Jersey Small Business Development Center of Northwest Jersey (NW-NJSBDC) to provide the "Artist Entrepreneurship Program." Thanks to the NW-NJSBDC, Program Participants we refer have access to online assessments, webinars, seminars, and one-on-one counseling.
Arts & Innovation Summit
In Today's Data-Driven and Task Orientated World abilities such as Creativity, Collaboration, and even the ability to have Deep Thought and Reflection are often lost. The Arts encourage and develop abilities resulting in new Innovations and Opportunities. The 2nd Annual Arts & Innovation, "Arts & Technology…The Fusion on Imagination & Innovation" will discuss these items in-depth.
Reading To A Better Future
The Literacy Initiative is the evolution of our highly successful Bookmark Program. In the past two years over 30,000 Bookmarks will be distributed throughout the Morris County Library System. A love of reading from an early age is essential to success in the classroom and life. This year we are expanding our program. Stay tuned for details.
STEM Leadership Internship
To develop the next generation of Volunteer, Community, and Business Leaders, First Night Morris County has expanded our Volunteer Internship Program to the STEM Leadership Program. Students from Middle School to Graduate School receive Mentorship, Training, and Hands-On Opportunities to Prepare them for the Future. Our program focuses on STEM-Based opportunities, emphasizing Green Technologies, Data Science, Analysis, Application Development, and Architecture with separate training modules on workplace soft skills and leadership.