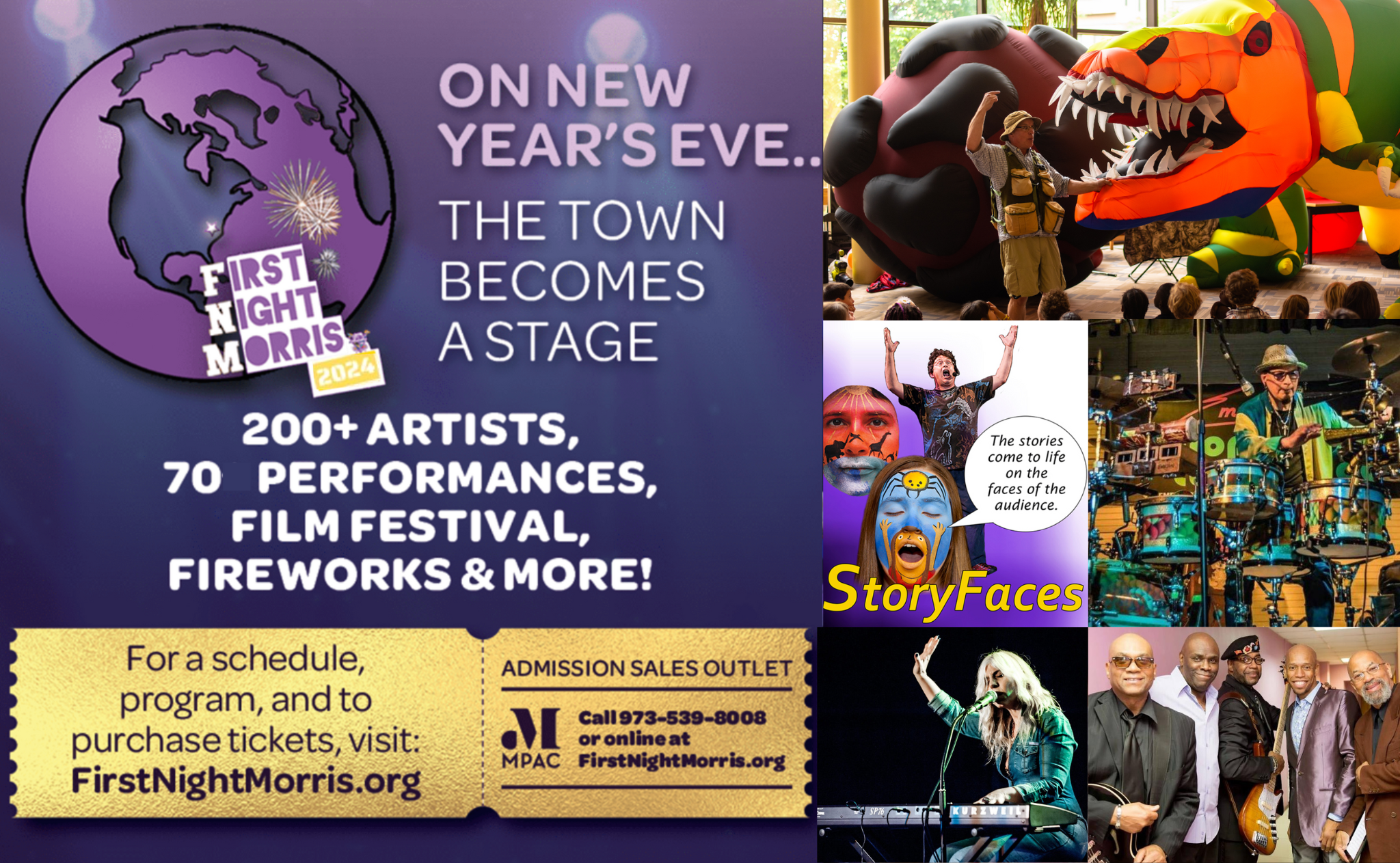 First Night Morris County 2024
Beginning in 1992, First Night® Morris County is now the LARGEST First  Night® in New Jersey. Join your friends and neighbors for our 32nd year of ringing in the New Year with an unmatched array of performances! First Night Morris County 2024 is the biggest and brightest New Year's Eve celebration in New Jersey, providing a magnificent, family-friendly, substance and alcohol-free celebration in the heart of Morristown.
All Attendees Receive Access to Our Stellar Program & More:
– 70 Performances at 20 Venues (18 In-Person, 1 Streaming, and 1 On-Demand), and 50+ On-Demand Films.
– Events include theatre, music (rock, jazz, classical, opera), visual arts, film festival, world cultures, children's programs, and so much more.
– Fireworks at 9:15 PM, and the program concludes with the new Midnight Countdown Featuring Fireworks to Welcome in the New Year.
– Complimentary Shuttles Start at 4:45 PM.
– Children's Fun Festival at Morristown High School from 4:45 PM to 9:00 PM
– Film Festival Starting at 6 PM
– Complimentary Parking at any Morristown Parking Garage Starting at 4 PM.
– Complimentary Mobile App & Print Program**
– On-Demand Access from 4 PM on December 31, 2023 to 4 PM on January 1, 2024
Your First Night Morris County admission button (ticket) gives you access to innovative, diverse, and high-quality performances ideal for participants of all ages. In-person venues are within close walking distance of one another, and virtual programs are accessible through our mobile app or website. For one affordable price, you and your friends and family will enjoy unlimited access to all of our spectacular performances in person, streaming, or on-demand.*
Pricing
– $25 Single / $90 (4-Pack) thru December 21st at 11:59 PM
– $30 Single / $95 (4-Pack) December 22nd – December 31st
About Us
Our Mission
First Night® Morris County, a non-profit 501(c)(3) organization, seeks to foster the public's appreciation of visual and performing arts through an innovative, diverse, and high-quality New Year's Eve program which offers the community a shared cultural experience that is accessible and affordable to all with Year Round Community Development Thru FNM365.
Who Organizes First Night Morris County?
First Night® Morris County is run by a volunteer Board of Trustees and 6 Committees. Board and/or Committee Members come from a variety of backgrounds and work year-round to support the mission of First Night®, Morris County.
Ticketing & Purchasing FAQs
Where Can I Purchase Buttons (Tickets)?
Buttons admit attendees to First Night® performances. Prior to December 31, tickets (to be exchanged in person for buttons starting December 1, 2023) can be purchased online at FirstNightMorris.org or from the Mayo Performing Arts Center (MPAC) by phone (973-539-8008) or at the Box Office located at 100 South Street in Morristown. For button pick-up please visit FirstNightMorris.org for details.
What's The Difference Between a Ticket and a Button?
Printed tickets via online orders can be exchanged for buttons on the night of the event at the MPAC Box Office (from 2:00 PM to 3:30 PM), The Morristown Library (from 3:30 PM to 8:30 PM), and then the MPAC Box Office Reopens from (8:30 PM to 10:00 PM). Buttons are provided at the time of all other admission transactions, including those at Will Call.
Where Can I Pick Up Tickets I Ordered Online?
The RECEIPT you printed when you ordered your tickets online IS NOT SUFFICIENT for entry to the venues. You must present the bar coded tickets at Will Call to pick up your buttons. Will Call will be located at MPAC from 2:00 PM to 3:30 PM on the 31st. After that time, Will Call will be located at the Morristown Library (directly across the street from MPAC) from 3:30 PM to 8:30 PM. The MPAC Box Office will reopen from 8:30 PM to 10:00 PM.
Online Sales Will End On December 31st at 3:00 PM / Where Can I Buy In-Person on December 31st
Tickets (Buttons) sales will be sold at the event through the MPAC Box Office from 2:00 PM to 3:30 PM and then at Morristown Library from 3:30 PM to 8:30 PM, and then the MPAC Box Office will reopen from 8:30 PM to 10:00 PM. Additionally, a limited amount of tickets (buttons) will be on sale at the Hyatt Regency Morristown from 5:00 PM to 9:00 PM and Morristown High School at the Lower Atrium from 4:30 PM to 8:30 PM.
Important Notes
*Performance access is limited by seating capacity. Please check FirstNightMorris.org for the latest information, including health and safety guidelines. **Print Programs are available on a first-come, first-serve basis. ***All Sales are Final.***