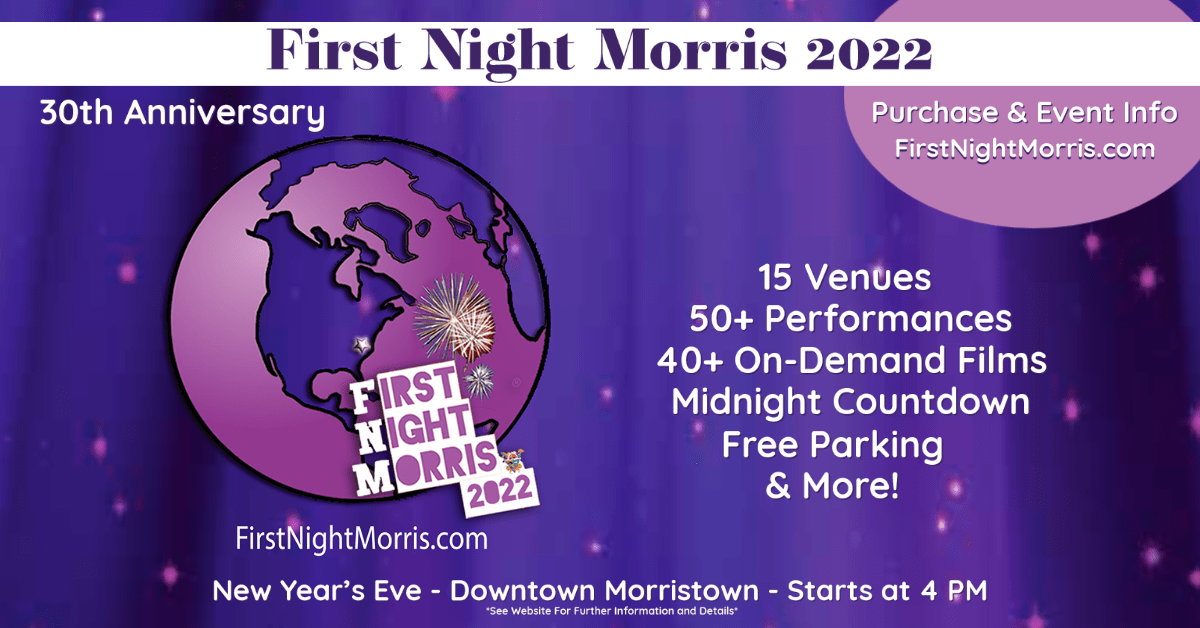 The 30th Annual First Night Morris County Returns to Downtown Morristown with 13 In-Person Venues, Live Stream, and On-Demand Access totaling 15 Venues
Marking its 30th year as the Mid-Atlantic's largest New Year's Eve celebration of the arts, First Night Morris County will feature over 50 performances at 13 in-person venues throughout downtown Morristown, from 4 p.m. to midnight on December 31.
This year's event adds a live stream of 4 different acts from the Mayo Performing Arts Center, which can also be seen live and in-person, plus on-demand access to over 40 films and select live performances through January 3, 2022. The live stream and on-demand access bring the venue total to 15.
Attend In Person, via Live Stream, or Watch Select Content On-Demand
This is the first time that First Night will offer a live stream from a venue and the second year of on-demand services. Attendees have access to all in-person performances, live stream, and on-demand capability included in their admission, plus complimentary parking, free shuttles, a mobile app, film festival, and a midnight countdown to welcome in the new year.
Thanks to its supporters, partners, and volunteers, First Night Morris County provides its attendees with outstanding value and world class performances. Once again, this year's performances feature the exceptional artists audiences have come to expect at First Night Morris County.
Thanks to artistic guidance provided by Dr. Lynn Siebert of Morris Arts, the program is well-balanced, offering numerous performance genres: theatre, music (rock, jazz, classical, etc.), visual arts, world cultures, children's programs, and so much more.
"We are excited to offer a wide variety of performances from a diverse group of artists," stated First Night Morris County President Craig Schlosser, who booked the artistic program with Dr. Siebert's assistance. "This year, we want to put a strong emphasis on the visual arts, and to do that, we moved up the event start time to 4 p.m. with the opening of two art galleries followed by a third gallery opening at 6 p.m.," Schlosser added.

Visual Arts Exhibits
The exhibits included in this year's program include the Atrium Gallery exhibit: "The Color of Life" at the Morris County Administration Building, which Dr. Siebert curated, and two exhibits opening this month at the Mayo Performing Arts Center: "Are We There Yet?" at the Art Upstairs Gallery, and the Starlight Gallery's new exhibit featuring artist Mike Dziomba.

Live Performances at St. Peter's Episcopal Church
Live performances start at 5:30 p.m. with opera stylings provided by the Vocal Trio of Harmonious Beginnings at Saint Peter's Episcopal Church. The performance delves into an array of Sacred, Broadway, Opera, and Americana with solo performances, duets, and classic presentations of three-part vocal harmony. The trio features the powerful vocal talents of three dynamic performers: Ted Chletsos, Lauren D'Imperio, and Stephen Lasher, accompanied by pianist Kristin Dabaghian.
Following the trio at Saint Peter's is one of New Jersey's leading choral arts organizations, Harmonium Choral Society. Directed by Dr. Anne Matlack, Harmonium offers richly diverse programming and the highest caliber of choral performance.
The final two performances of the evening at Saint Peter's Church are courtesy of the award-winning Baroque Orchestra of New Jersey (BONJ). Join the orchestra, under the direction of conductor Dr. Robert W. Butts, to explore great orchestral music of all periods, from the 17th through the 21st centuries. All the performances were specially selected to benefit from the church's magnificent acoustics and beautiful architecture, providing a rich experience for all attendees.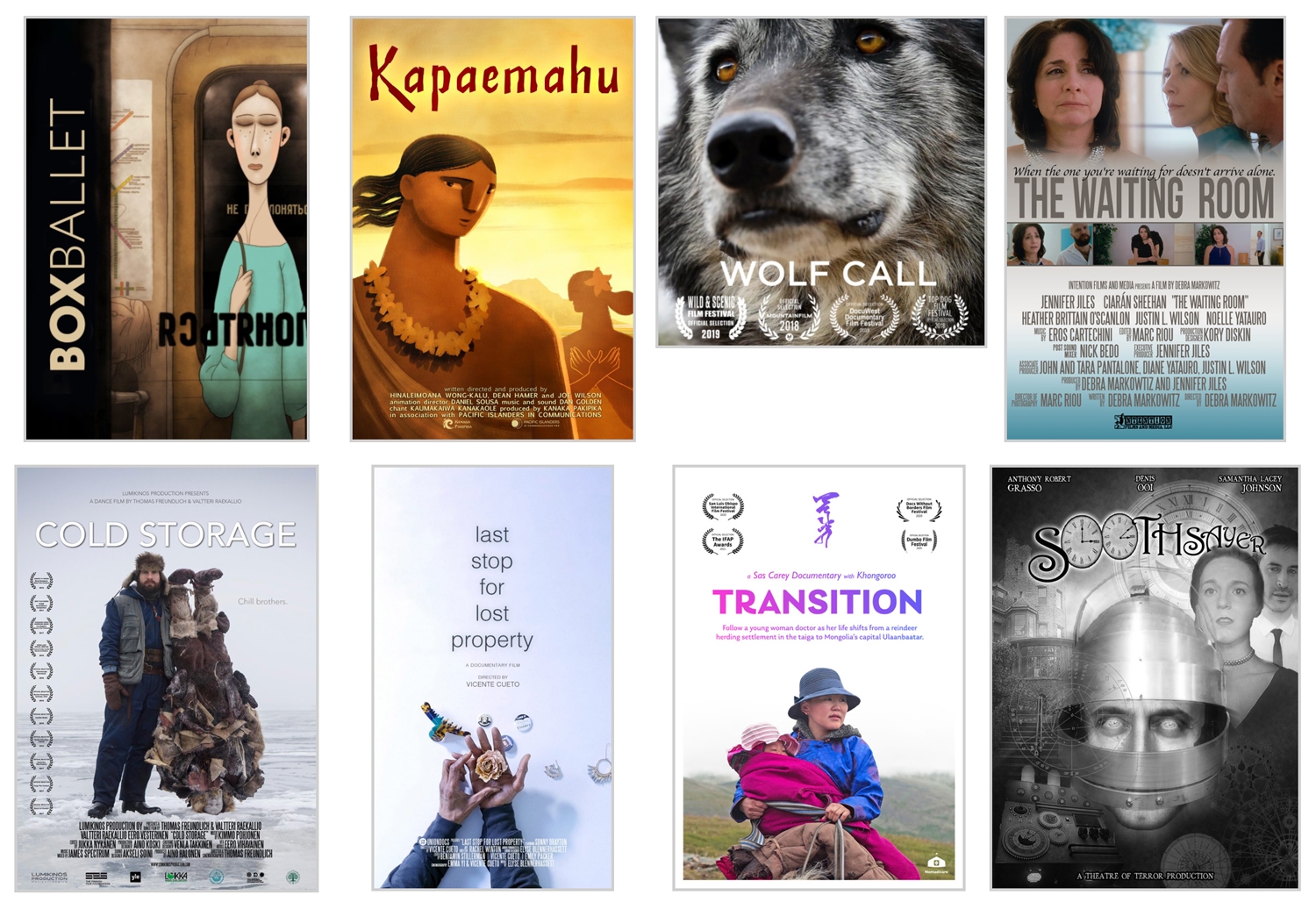 New This Year! In-Person Film Festival at AMC Theaters
The in-person Film Festival at AMC Theaters in Morristown is a new addition to the 30th annual First Night Morris County. The festival features five venues and starts at 6 p.m.
Under the direction of Executive Board Member and Film Festival Director Mark Boutros, MFA, and Chairman, Walter Deutsch, the offerings build on the virtual Film Festival offered last year. The Film Festival was expanded with the Thomas Edison Film Festival selections and feature films chosen specifically for the First Night Morris County audiences.
The Film Committee, which consisted of Advisory Board Members Ayne Klein Chasid, Jane Kurek, Jessica Offer, Mark Boutros, Walter Deutsch, and Intern Adam Tang, assembled a festival featuring 40+ films. With specific category segments for short films and feature films, each having their own performance blocks, most movies are for All Ages, some for Teens & Adults, and one is for Young Adults & Adults.
As a bonus, over half of the films are available on-demand through January 3, 2022 via the First Night Morris County website or mobile app. Award winners will be announced during the Film Festival Discussion & Awards segment at 7:30 p.m. in Venue 2.

Live Performances at the Mayo Performing Arts Center (MPAC)
At 6:30 p.m., performances begin at the Mayo Performing Arts Center (MPAC). This year's program features a few new enhancements, including a live stream, courtesy of the Mayo Performing Arts Center, accessible through the First Night Morris County website and mobile app. Even more impressive is the variety of the four acts.
"The Mayo is a fantastic partner, and this year they once again demonstrated it. Not only do they handle the bulk of our ticketing, but they are also handling our live stream and changing over four different acts to provide a new performance to every audience who comes in the door. It's extraordinary, and we are grateful for their continued support," stated First Night Morris County Chairman Walter Deutsch.
The first performance of the evening is the family favorite, Dinoman Dinosaurs! The Mesozoic comes to Morristown. The program, which features life-size inflatable dinosaurs and takes the audience through the Mesozoic era, has garnered a "Best Bet" from the LA Times, praise in the Wall Street Journal, and is a favorite at First Night.
Following Dinoman at MPAC are two outstanding jazz performances.
The first is award-winning jazz pianist and accordionist Ben Rosenblum and his Trio. Rosenblum has toured internationally with his trio and sextet and performed as a soloist at Carnegie Hall's Stern-Perelman Auditorium. In 2020, his ensemble, the Nebula Project, was voted runner-up for "Best New Artist" in the JazzTimes Readers Poll.
The second jazz performance of the evening is Morristown legend (his photo and bio are in the Morristown Post Office on the Wall of Fame for Morristown), Rio Clemente. Clemente incorporates multiple genres into his unique jazz style, earning him the moniker of the "Bishop of Jazz." Clemente has performed at Carnegie Hall, Avery Hall at Lincoln Center, the White House (for President Obama), and at the United Nations.
The final performance at the Mayo will rock out with the Matt O'Ree Band. The group's leader, Matt O'Ree, is a former guitarist for Bon Jovi, a NY/NJ Blues Hall of Fame inductee, and was crowned "King of The Blues" by BB King himself. The band's newest addition and backup singer, Eryn, is also an award-winning artist and songwriter.
All promise to be remarkable performances not to be missed.
Between the extended performance breaks at the Mayo Performing Arts Center, the top-rated "Behind the Curtain" series returns with a look into how First Night Morris County 2022 came to life. The series is also available to the public through TV trucks located next to the Mayo Performing Arts Center at the Vail Mansion. The video production for these pieces and the midnight countdown are provided courtesy of Kraus Marketing.

Comedy and World Culture at the Hyatt Regency Morristown
At 7 p.m., two additional venues begin at the Hyatt Regency Morristown with the Regency Room "Comedy Club," and the Morris Room "World Center."
The "Comedy Club" at the Regency Room in the Hyatt Regency Morristown features two outstanding comedians, Joe Larson and Leighann Lord.
Joe Larson won College Comedian of the Year at the Las Vegas Comedy Festival, and was a finalist in the prestigious Johnny Carson Great American Comedy Festival and the Boston Comedy Festival. He has also made multiple appearances on television, including on "The Bob & Tom Show."
Leighann Lord's "heads up humor" is stand-up comedy at its finest. Lord received the NYC Black Comedy Award for "The Most Thought Provoking Black Female Comic," and has appeared on countless stand-up comedy shows.
Larson and Lord will rotate shows with Larson performing at 7:00 p.m. and 9:45 p.m., and Lord at 8:15 p.m. and 11:00 p.m. The talented duo is sure to provide an enjoyable comedy experience for all.
The "World Center" at the Morris Room in the Hyatt brings world cultures to Morristown with the return of two top-rated performers, Music from China and Random Test Reggae Band.
NYC-based chamber ensemble Music from China performs traditional and contemporary Chinese music on folk and western instruments. Praised by the NY Times and Washington Post, the ensemble has performed at the Library of Congress, Metropolitan Museum of Art, the Smithsonian, as well as with major symphony orchestras, and such jazz greats as Ornette Coleman.
Drawing members from throughout the Caribbean, Random Test Reggae Band has rocked the NJ Shore with authentic Reggae and Calypso for over a decade. Their performances pay tribute to pioneers in Reggae, Soca music and offer a chance to enjoy the joyous music that the Caribbean has to offer.

Family Friendly and Interactive Performances at Saint Peter's Parish House
The final venue of the night offers performances starting at 7:30 p.m. at Saint Peter's Parish House, featuring two First Night Morris County favorites, Mauricio de Souza's Bossa Brasil®, and Mr. Fish: Super Circus Stuff. Both performances are family-friendly and interactive.
Bossa Brasil®'s repertoire features Bossa Nova classics, other popular types of Brazilian music, and De Souza's own compositions. The group has previously performed at First Night Morris, the Blue Note, NJPAC, and Festival International de Quebec. De Souza has also released four commercial albums.
A crowd favorite, Mr. Fish: Super Circus Stuff brings a fast-paced, family friendly performance featuring pure entertainment pleasure, fun circus routines, and audience participation. John Lepiarz, a.k.a. Mr. Fish, is an internationally known professional circus performer. He toured for seven years with the Big Apple Circus and appeared on HBO's "Great Circus Performances of the World." Audiences should arrive early to catch the 9:45 p.m. and 11:00 p.m. performances by the highly popular Mr. Fish, our featured evening family-friendly act.
Ticketing Information: Early Bird and Regular Admission
All attendees will have access all 50 performances, provided space is available, along with complimentary shuttles, free parking, mobile app, midnight countdown, film festival, access to over 40+ on-demand films and live stream included in their admission price.
Early bird admission runs through December 21 at $25 per admission, or $22.50 each when purchasing four or more ($90 4-Pack).
Regular admission pricing begins on December 22 and runs through the event with $30 per admission or $23.75 each when purchasing four or more ($95 4-Pack).
Following industry safety standards, all attendees ages 12+ attending a performance are required to show proof of full vaccination or a recent negative COVID-19 test taken within 48 hours of the event start time. Masks are required to be worn inside the venue except while briefly consuming concessions.
To purchase tickets and for more information, visit FirstNightMorris.com, the Mayo Box Office at 100 South Street, Morristown, NJ, or call 973-539-8008 during regular business hours.
Join Us New Year's Eve for 50+ Performances at 13 In-Person Venues, Plus Live Streaming and On-Demand Access to 40+ Films and Select Live Performances

Access is included with every First Night Morris County ticket.
About First Night Morris County
First Night® Morris County, a non-profit 501(c)(3) organization, seeks to foster the public's appreciation of visual and performing arts through an innovative, diverse, and high-quality New Year's Eve program which offers the community a shared cultural experience that is accessible and affordable to all with Year-Round Community Development through FNM365.