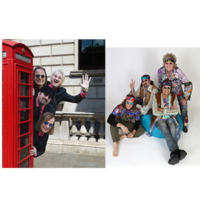 The British Invasion Years: A 60's Musical Revolution
December 31, 2020 11:05–11:50PM
On-Demand: January 1, 2021 – January 3, 2021
What better endorsement for a British Invasion tribute band than opening for Ringo Starr?! If you love classic 60's rock, you will thrill to this group's note-perfect performances of music from The Beatles to The Beach Boys! Individually and collectively, they have performed with Eric Clapton, Bon Jovi, Southside Johnny and the Asbury Jukes – at the Stone Pony, on The Tonight Show and Late Night with David Letterman.
The band formed in 1997 as the Robert Murdock Band, blending classic 60s British and American rock, and committed to researching and performing the most faithful and joyful "covers" of that iconic repertoire. They developed the concept of an exciting, unique concert experience, meticulously recreating all the amazing 60's hit songs, complete with period accurate outfits and multimedia.
Over the years, they have appeared multiple times at First Night Morris County, packing the Mayo Performing Arts Center with standing-room-only crowds and garnering standing ovations! Their programs include chart toppers by iconic British Invasion bands (The Beatles, Rolling Stones, Herman's Hermits, The Zombies, The Dave Clark Five, Gerry and the Pacemakers, Manfred Mann and others). The American Response followed with the band recreating mega hits by legendary artists like The Monkees, Simon & Garfunkel, The Turtles, Paul Revere & The Raiders, The Beach Boys, The Mamas and The Papas, to name just a few.
In 2011, they realized that dream of every British Invasion tribute band: opening for one of the original Beatles, Ringo Starr and his All-Starr Band! They have since shared the stage with other legendary artists such as The Beach Boys, Herman's Hermits, Leon Russell, connected with a major talent agency, toured and recorded widely.
Rock in the New Year with this amazing band!
On New Year's Eve…The Reimagined First Night Morris County…Live, Streaming & On-Demand. All Tickets Include: Streaming & On-Demand Access, Friday Night Film Nights, Dining Offers & More! Starting at $15