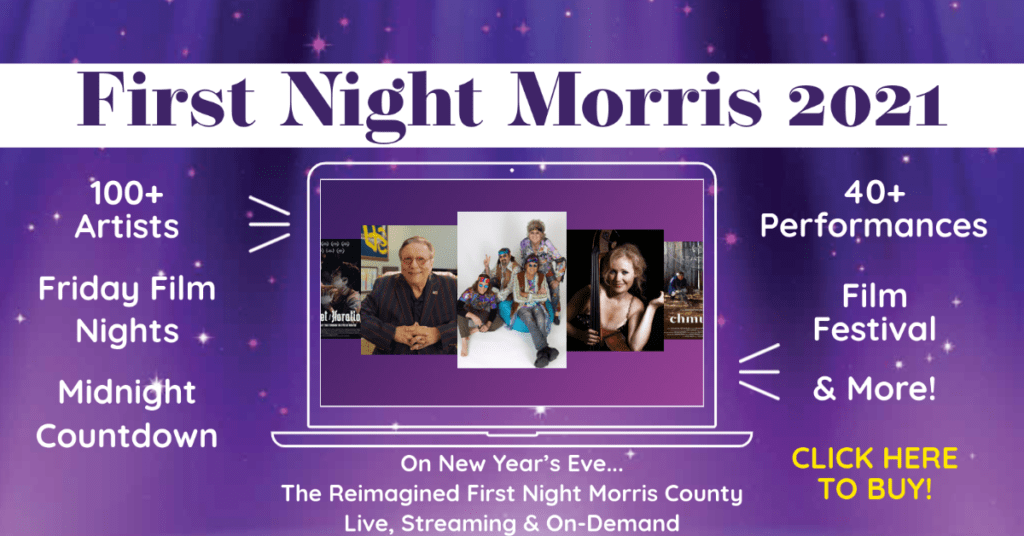 The pandemic necessitated many changes but, in the case of First Night Morris County, our re-imagined event has silver linings: with its largely virtual format, neither foul weather on New Year's Eve nor long distances from Morristown prevents anyone from attending.  From the comfort of home, our audiences can enjoy virtually all of the delights of our program available to all online and on demand through January 3, 2021!
In keeping with its 29 year tradition as artistic programmer for First Night Morris County, Morris Arts has secured topflight talents who have performed at world class venues, won international recognition, performed on national radio/TV, in major films and/or collaborated with superstars of performing arts. Outstanding performers – both online (and one in-person performance), two virtual fireworks shows,  online offerings from the First Contact Film Festival (an independent film makers' competition) and Yousic Play Montage's short performances/interviews with 4 jazz greats are all included in this year's reimagined First Night Morris County.
This year, First Night is the best bargain in town for New Year's Eve and more. A First Night ticket includes access to 90 minutes of films starting at 7pm on each of "Friday Night Film Nights," December 11 and 18. December 11th film night includes the following short films: Chmurka-Fluffy, Dutch (interview with cast/crew of Dutch), Hide and Seek, Go!Go!, Intelligentia, Requiem, Simulation, The Last Day, Yorick and The Devil's Dodecahedron. December 18th's film night features Hamlet/Horatio. Can't make it on those evenings? Don't worry. The same films will be available for viewing on December 31st and on demand through January 3rd.

On New Year's Eve between 5:40 and 6:25pm, and on demand through January 3rd, Yousic Play will provide a pre-program montage of short performances and interviews with outstanding jazz musicians Cory Henry (jazz organist), Jesús Molina (jazz pianist), Robert "Sput" Searight (drummer) and 10 time Grammy winner, trumpeter Arturo Sandoval.

Then, on New Year's Eve from 6:30pm-midnight and on demand through January 3rd, First Night's main program will feature new performances created for this year's First Night beginning with the lilting jugs, reels of champion Irish Fiddler Brian Conway with John Walsh on guitar, the mesmerizing magic of Jason Hudy, and the laugh-out-loud humor of Comedian Joe Larson. (Pandemic regulations permitting, there will also be two 45 minute live performances by Comedian Joe Larson – at the Mayo Performing Arts Center at 6:30 and at 8:15pm on New Year's Eve).

Following a wonderful 9pm virtual fireworks show, our audiences can delight in performances by award-winning Harpsichord Virtuoso Andrew Rosenblum, the jazz wizardry of the world-renowned Frank Vignola Hot Jazz Trio with bassist/vocalist Nicki Parrott and then travel back in time to the golden era of  60s rock, with the note-perfect multimedia performance by the fabulous British Invasion Years.
Interspersed throughout the evening are brief glimpses "behind the curtain," introducing our audiences to the people responsible for First Night Morris County. In keeping with tradition, the evening will conclude with a countdown to the virtual fireworks at midnight, to herald the start of the New Year in true First Night fashion. Another silver lining this year: our audiences can revisit their favorites on demand through January 3, 2021 – and access everything for the entry price of only $10!
For more information about the event, the artists, the program details and schedule and to purchase tickets to these wonderful performances, visit www.firstnightmorris.com.
Tickets are also through the Mayo Performing Arts Center (MPAC) by phone at (973) 539-8008 or at the MPAC Box Office at 100 South Street, Morristown, NJ. Pricing is discounted through December 21st for each of three options:
First Pass (streaming, on demand through Jan. 3) $10 through Dec. 21; $15 afterwards
Souvenir Package: (streaming, on demand through Jan. 3, button and program) $20 through Dec. 21; $25 afterwards
FNMC2021 LIVE (streaming, on demand through Jan.3, button, program and 1 live show) $30 through Dec. 21; $35 afterwards