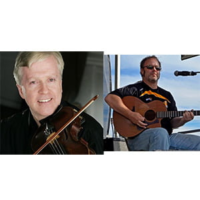 Brian Conway, Champion Irish Fiddler, with John Walsh, Guitar
December 31, 2020 6:30– 7:15PM
On-Demand: January 1, 2021 – January 3, 2021
"Someone whose talent should be sampled first-hand by far more people outside the Big Apple." — Earl Hitchner, The Irish Echo
Irish (and all other) eyes will be smiling at the performance by All-Ireland fiddling champion Brian Conway, considered one of the best Irish fiddlers of any style. Conway recently retired and now devotes his full energy to the rich tradition of Irish fiddling. A leading exponent of the tastefully ornamented Sligo fiddling style made famous by the late Michael Coleman, Conway won multiple All-Ireland fiddling titles and was influenced by the legendary fiddler and composer Martin Wynne who taught him the real secrets of the County Sligo style. Later, Brian met and befriended the great Andy McGann of New York, a direct student of Michael Coleman, who further shaped his precision and skill on the instrument.
Brian remains faithful to the rich tradition handed down to him. The distinctness of his tone, the lift of his playing, and the deft ornamentation he brings to the tunes have placed him among the finest Irish fiddlers of any style, Sligo or otherwise. He has performed throughout North America, Ireland and Europe and recorded to critical acclaim. Considered one of the premier instructors of traditional Irish music, Brian has mentored many fine fiddle players, including several who have gone on to win All-Ireland championships.
Irish-American guitarist, singer and producer John Walsh, joins him in performance for First Night Morris County.
Conway's discography includes six CD's, issued between 1979 and 2017. Among these are Consider the Source (2008), on the prestigious Irish label, Cló Iar-Chonnachta, and described by the Irish Echo as "Easily one of the best releases of the this year" and one on Smithsonian-Folkways (2002) which the Irish Echo also voted as "Album of the Year."
On New Year's Eve…The Reimagined First Night Morris County…Live, Streaming & On-Demand. All Tickets Include: Streaming & On-Demand Access, Friday Night Film Nights, Dining Offers & More! Starting at $15